Hub:raum is Deutsche Telekom's tech incubator, supporting, mentoring, and investing in startups with innovative business ideas. With locations in Berlin, Krakow, and Tel Aviv, hub:raum generates commercial opportunities connecting the startup ecosystem with Deutsche Telekom's business units. 
SaaS business Landingi makes building, changing and optimizing landing pages easy for marketers, without the need for technical help. Headquartered in Poland's Silesian metropolis region, Landingi provides services for over 4,000 companies across diverse industries, including Luxoft, Sony Music, Credit Agricole, PayPal, and many more.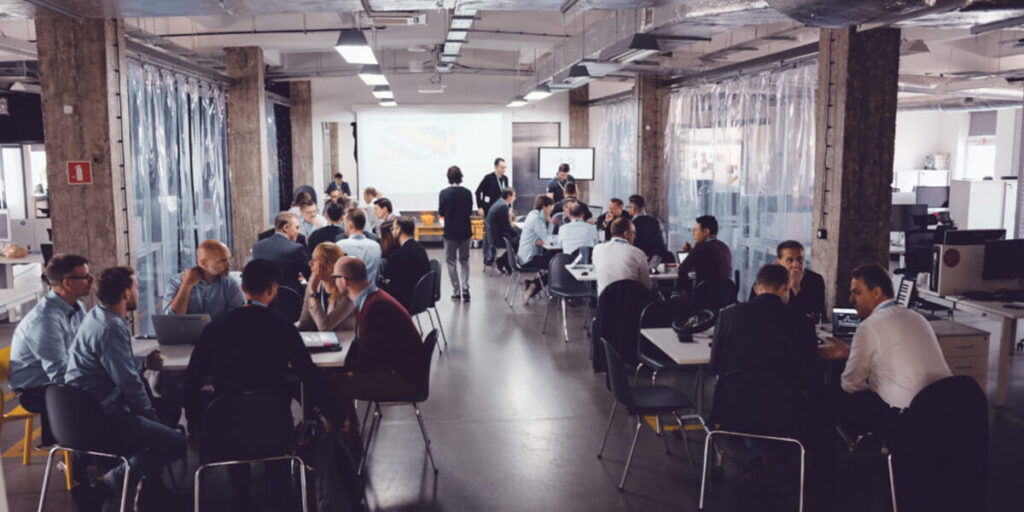 T Mobile Hub:raum is the startup incubator which focuses on discovering, mentoring, and investing in innovative technology projects which provide potential mutually beneficial business opportunities with Deustche Telekom's business units. 
Hub:raum runs a slate of regular events and programs over the course of the year, including the WARP Accelerator program, occurring multiple times annually and involving dozens of companies from Europe and beyond  and with different scope and focus (for instance, one example emphasized Narrowband-IoT technologies).
T-Mobile Hub:raum has three arms (Berlin, Krakow, Tel Aviv), with the Krakow unit being founded in 2012. At its time of founding, organization heads were seeking partners who could help deliver training and mentorship in the areas of B2B sales and pitching/presentations.
At the time, NorthStar was delivering a project for the Krakow Google for Entrepreneurs office involving presentation and B2B sales training for a group of 10 startup companies destined for an upcoming program in the US. Having attended a session, a representative from Hub:raum saw potential for cooperation between Hub:raum and NorthStar. 
Since that time NSC has cooperated with Hub:raum on multiple projects including several editions of WARP (delivering both B2B sales  training and pitch training for startup companies in preparation for pitching to business heads of Deutsche Telekom), the Challenge UP program (a joint venture of DT, Cisco, and Intel involving 20+ startup tech companies), and other projects.
NorthStar consistently and reliably delivers visible results in the quality of presentations delivered by the dozens of startup companies they've worked with in partnership with Hub:raum. 
Specifically this includes improvements in clarity of message, conciseness, and delivery. Since attendees at the event typically see both the "before" version of the pitch an the "after", they are well-positioned to judge the effectiveness of the work NSC does, which has resulted in continued cooperation on T-Mobile hub:raum projects.